---
EATON 9SX UPS 9SX1000IR
Product Details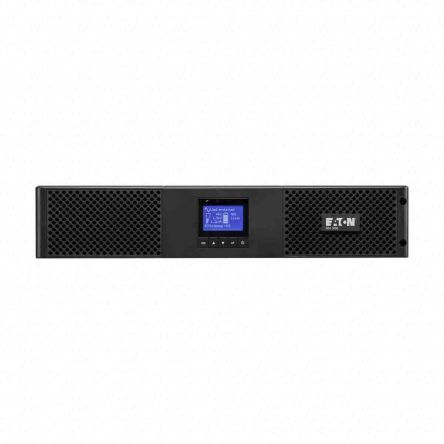 Eaton 9SX UPS Uninterruptible Power Supplies
The EATON 9SX UPS 9SX1000IR  range of uninterruptible power supplies with robust online double-conversion power protection is constantly monitoring power conditions and regulating voltage and frequency. Featuring zero transfer time to battery, continuous filtering of power, and an internal, automatic static bypass, the EATON 9SX UPS 9SX1000IRrange is the ideal solution for the supply of backup power to data centers and offices. With a 0.9 power factor providing up to 28% more wattage they can power more servers than other UPS in its class. The LCD screen provides clear information on the UPS systems status and measurements on a single screen.
EATON 9SX UPS 9SX1000IR Features and Benefits
• The UPS system is easy to install in any environment and is available in either rack-mount or tower mount options.
• New graphical LCD display shows a range of information including status and measurements on a single screen (in eight languages)
• Extended run time can be added with up to 4 external hot-swap battery modules.
• Stronger and longer battery life with Eaton ABM battery management technology which uses an innovative three-stage charging technique that extends battery life by up to 50%.
• Available in 700VA to 3000VA power ratings.
What is an Uninterruptible Power Supply used for?
An uninterruptible power supply (UPS) is designed to give your computers, servers, server rooms, and data centers power in the case of any unexpected energy cut off or in similar applications. These power supply devices contain a battery that guarantees power to your computer system for a certain period of time. These enable the user time to save the current task and shutdown software. Uninterruptable power supplies ensure mission-critical data loss can be prevented.
The Eaton 9SX UPS has constantly monitored power conditions and regulates voltage and frequency. It used an LCD which provides clear information on the UPS's status and measurements on a single screen. It has stronger and longer battery life. The rack 2U model has the option that is about the size of a modern and compact PC. It used 900W of power.
USB and serial ports
Slot for management card
Relay output

On-Line – Eaton
All products in this range offer on-line double conversion technology and comprehensive LED status panels.
---
EATON 9SX UPS 9SX1000IR Specifications
| | |
| --- | --- |
| Attribute | Value |
| Model | Eaton 9SX |
| Power Rating | 900W |
| VA Rating | 1000VA |
| Output Voltage | 230V ac |
| Input Voltage | 190 → 276V ac |